AstroDIY - my new project for 2018
At the end of 2017 I visited the Chaos Communication Congress for the second time, this time the 34C3. And while attending I took the slogan #tuwat literally. Ansi and I had an idea that might sound a little crazy at first, but with further thought it is very interesting: we want to print a telescope!
Actually, it is quite logical: Ansi a great developer and maker with lots of experience in 3D printing and me with my hobby astronomy. Together, we can put something together that might bring new interests to our friends and peers in our respective hobbies: the tech-savvy makers get a glimpse of an exciting hobby that's directly related to physics and technology, and amateur astronomers get a use case, which they can use for their hobby with modern prototyping technology.
The name for the project was quickly found: AstroDIY - and a rough sketch of a project plan was finished during the 34C3 - #tuwat!
After the congress, we continued to do something and searched for supporters and sponsors who would like to back this project.
The basic conditions we have set ourselves are:
We want to build an 8" Dobsonian telescope, the components of which all come from a standard 3D printer - except, of course, the optical elements.
There are countless 3D projects on Thingiverse, including one for printing an 8" Dobsonian telescope. We want to do our project based on this piece of work, document it and, if necessary, adapt the design.
In a sense, the whole project is a feasibility study: Is it really possible to build a telescope with today's 3D printing technology that can meet the demands of an amateur astronomer?
The result of the project is explicitly open - we just try it as best as possible, but a failure and termination of the project may well be possible. Of course we want to avoid that and really like to make a usable telescope.
We want to find people interested in the project who help us to keep the financial impact as low as possible. In other words, sponsors can and should support us and use the results of this experiment.
Since we do not want to financially benefit from contributions of the sponsors and at the same time want to do something for the general interest in science and technology, upon successful completion of the project, the telescope will be donated to an astronomical association that can use the telescope to promote the interest in astronomy.
Since the production of the final printing parts will take place in Berlin, the presentation and donation of the telescope shall happen in Berlin.
The "Astronomy Day" is the highlight in every year for the "Vereinigung der Sternfreunde" (Association of the Star Friends), where many events on astronomy in observatories and planetariums are held for the general public. This year the day will take place on 24.3. - so this will be our target date until when the telescope should be finished and ready for use.
Makeing a whole telescope from scratch - in less than three months? This will be an exciting challenge that Ansi and I now want to bravely face!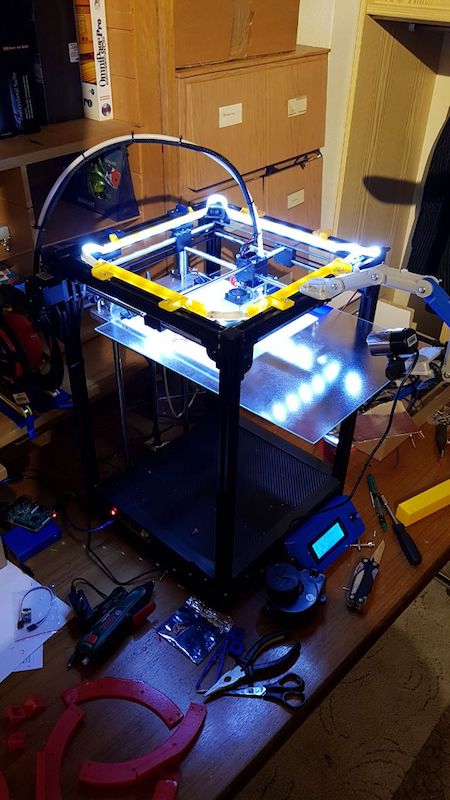 From now we will post blog articles on a regular basis. On astrohd.de I will cover the point of view of an amateur astronomer and Ansi on 23-5.eu will write from the perspective of a Maker.
I am looking forward to the interesting next weeks!